Implant Dentistry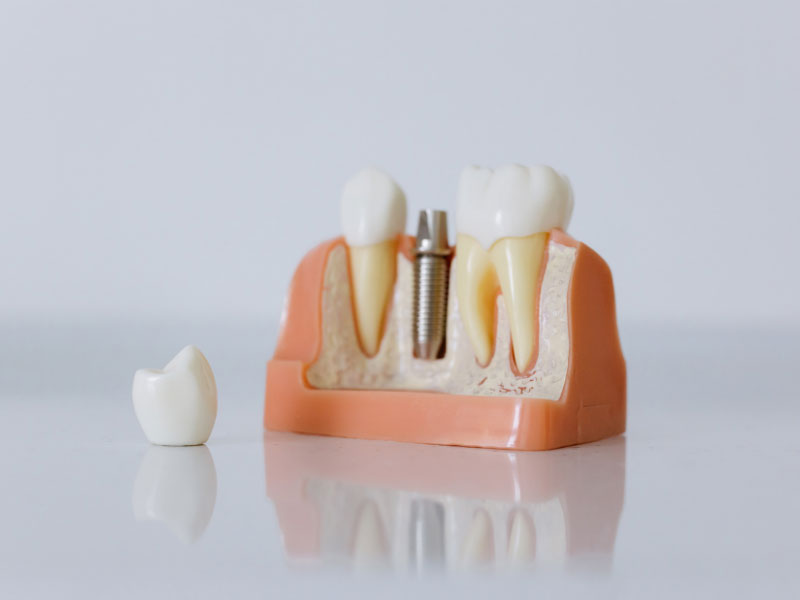 If you've lost one or more teeth, you may have heard of dental implants. But maybe you haven't heard about prosthodontics. Implant dentistry is the branch of the dental specialty of prosthodontics that replaces missing teeth with state-of-the art dental implants.
Implant dentistry provides a long-term, specialized solution to tooth loss that requires surgical skills. As a highly-trained specialist in oral and maxillofacial surgery, a prosthodontist is the most qualified dentist to perform implant dentistry.
In this post, you'll discover what you need to know about prosthodontic implant dentistry:
How implant dentistry works.
Benefits of implant dentistry.
Implant dentistry costs.
Advantages of prosthodontic implant dentistry.
Whether implant dentistry is right for you.
What is Implant Dentistry?
Implant dentistry refers to the surgical placement of dental implants to support artificial teeth. A dental implant is a biocompatible rod, generally made of titanium, that's inserted into the socket of a missing tooth. It fuses with jawbone over several months, when a synthetic tooth or teeth can be attached to the artificial tooth root that's formed.
How Dental Implants Are Used
Dental implants provide a permanent means of replacing a single tooth, several teeth, or all the teeth. An implant with a dental crown is used to replace a single tooth.
Implants can also be used to secure fixed dentures and bridges:
Implant-supported overdentures when all the upper or lower teeth are missing.
All-on-4 "teeth in a day" dentures.
Implant-retained bridges to fill the gap left by one or more missing teeth.
The Implant Dentistry Process
As we've seen, the implant dentistry process takes several months, including time for healing between procedures. Stages in the process are:
Tooth extraction if necessary.
Surgical insertion of the implant.
Attaching an abutment to the implant.
Attaching an artificial tooth or teeth to the abutment.
Initial healing after implant surgery may take a few days as tenderness and swelling subsides. If you don't have sufficient healthy jawbone to support an implant, a bone graft may be necessary ahead of implant placement.
Benefits of Implant Dentistry
Implant dentistry is a hi-tech method of tooth replacement with multiple benefits compared with conventional dentures and dental bridges. A major milestone in dentistry, implants are the next best thing to natural healthy teeth. They can last a lifetime and have become a popular option because of their practical and aesthetic advantages over other tooth replacement systems.
Artificial teeth anchored by implants look, feel and function like natural teeth. You can eat, speak and smile with confidence, and implants are designed to last several decades. Implant dentistry is unique in creating an artificial tooth root, which promotes jawbone growth – essential to maintain facial structure and appearance.
Other benefits of dental implants include:
Permanent solution to tooth loss.
Resistance to staining.
Low maintenance – just normal brushing and flossing.
Better bite function than traditional dentures, which allows you to maintain a nutritious diet.
The American Academy of Implant Dentistry (AAID) says the number of people choosing implant dentistry rises by half a million a year, and points out that dental implants have the highest success rate of any type of surgical implant.
Implant Dentistry Costs
For people who've lost teeth, implant dentistry is an investment in their future. The multiple advantages of implants improve quality of life in terms of oral health and functionality, enhanced appearance, and increased self-confidence. While cheaper tooth replacements like bridges or removable dentures typically need replacing over time, implants provide a permanent solution to tooth loss because they're part of your jaw. Technological advances in implant dentistry – including computer-aided design (CAD) and computer aided manufacturing (CAM) – have made dental implants more affordable.
The cost of implant dentistry varies considerably depending on many factors, including:
Complexity of the procedure.
Type of implant.
Material used for the crown, overdenture or bridge.
Other treatments incurring extra cost are sometimes needed before you can get dental implants. These procedures include:
Tooth removal.
Bone graft to ensure implant stability.
Sinus lift to add bone between the jaw and the sinuses either side of the nose.
Advantages of Implant Prosthodontics
Implants are regarded as the most advanced system of replacing missing teeth. So it follows that the best implant dentists are those with advanced training and skills in implant dentistry – prosthodontists. For instance, Plymouth prosthodontist Dr. Christopher Sasik of Metropolitan Prosthodontics completed a three-year residency in prosthodontics and maxillofacial prosthetics at the prestigious Mayo Clinic College of Medicine and Science. He now has more than 25 years' experience in implant dentistry.
Prosthodontists like Dr. Sasik have undertaken specialized training in the aesthetic replacement of teeth, which means your implant teeth will look as good as they feel, allowing you to show off your smile with confidence. Prosthodontic implant dentistry enables you to get the maximum benefits from dental implants as a permanent, stable solution to tooth loss that allows you to get on with your life looking years younger.
Is Implant Dentistry Right for Me?
Most people who've lost one or more teeth are candidates for implant dentistry if they're basically healthy and their jaw is fully developed. To assess suitability for dental implants, dentists evaluate the condition of your mouth and jaw with the help of digital scans or X-rays. They'll also consider your medical history. Implants may not be the right tooth replacement option if you have a medical issue that may impair the healing process and how well an implant will fuse to bone.
Medical conditions that could present a problem include:
Uncontrolled diabetes.
Uncontrolled gum disease.
Cancer.
Alcoholism.
Connective-tissue disorder.
Compromised immune system.
Hemophilia, which impedes blood clotting.
To get the most from your implant-supported artificial teeth, you'll need to commit to a good standard of oral hygiene – diligent brushing and flossing at home, and regular checkups and cleanings by your general dentist. Avoiding smoking and maintaining a healthy, tooth-friendly diet will also help to ensure the ongoing functionality of your implant teeth.
Metropolitan Prosthodontics can help you make an informed decision on whether implant dentistry is right for you. Contact our Plymouth prosthodontist to schedule a consultation.
Please login to publish a comment.
Comments (0)