Services at Your Plymouth Prosthodontist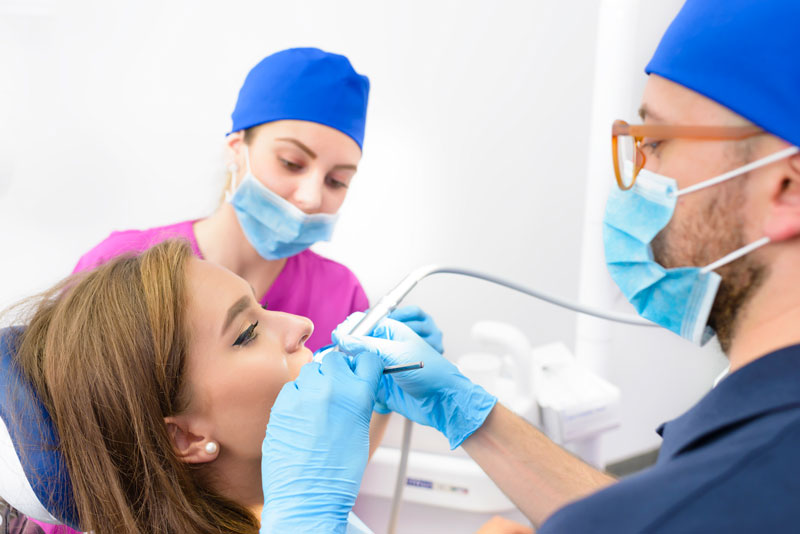 Prosthodontics is a dental specialty focused on restoring optimal oral health and appearance. A prosthodontist undertakes three to four years of specialist training in prosthetic dentistry – teeth repair and replacement, oral and facial surgery, and cosmetic dental procedures.
Metropolitan Prosthodontics provides wide-ranging prosthodontic services combining clinical expertise and experience with advanced dental technology such as 3D imaging – which avoids messy impressions – and CAD/CAM (computer-aided design and computer aided manufacturing).
Services at your Plymouth prosthodontist can be divided into five categories:
Fixed dental prosthetics.
Implant prosthodontics.
Removable dental prosthetics.
Maxillofacial prosthodontics.
Cosmetic dentistry.
Fixed Dental Prosthetics
Fixed dental prosthetics are permanent solutions that can't be removed – typically crowns and bridges.
Dental Crowns
Dental crowns – also known as tooth caps – encase a damaged tooth to strengthen function and restore natural shape, size and color. They're a versatile treatment. Besides repairing teeth with cavities too large for a filling, crowns can also be used to treat tooth loss – as the artificial teeth on dental implants and bridges.
Crowns can also be used to protect a tooth after physical damage or root canal treatment, and to restore worn-down teeth. Various materials are used to make crowns. Your Plymouth prosthodontist favors porcelain, which provides the most natural appearance and is stain resistant, low maintenance, and extremely durable.
Dental Bridges
Dental bridges literally bridge the gap left by a missing tooth or section of teeth. They ensure an even bite, prevent remaining teeth from moving out of position, and can last up to 15 years. As a fixed dental prosthetic, a bridge also avoids the inconvenience of having to take out a removable partial denture for cleaning and soaking. Porcelain bridges at Metropolitan Prosthodontics provide a popular alternative to bridges with a metal framework. They're still strong but look more natural.
Implant Prosthodontics
A subcategory of fixed dental prosthetics, implant prosthodontics uses dental implants – small biocompatible cylinders, usually made of titanium – to anchor artificial teeth. Surgically embedded into the socket of a missing tooth, the implant fuses with jawbone to create a synthetic tooth root – a process called osseointegration. This is unique in dentistry and encourages bone growth crucial to preserve facial structure and appearance.
Implants can be used with a crown to replace a single tooth or to secure a bridge or denture when several teeth or all the teeth are missing. Implant dentistry has the highest success rate of all surgical implants, and dental implants can last 20 to 30 years. Implants are also used in reconstructive surgery when an individual has sustained a facial injury in a traffic collision or sports accident.
All-on-4 Implants
All-on-4 dental implants are an innovation in tooth replacement introduced in the late 1990s. Eight or more regular implants are required to replace all the teeth in a dental arch. Implant-supported hybrid dentures like All-on-4, as the name suggests, typically do the job with just four. While conventional dental implant treatment takes several months, All-on-4 implants can give you a complete set of replacement teeth in a single appointment, with a temporary full-arch fixed implant bridge.
Removable Dental Prosthetics
Removable dental prosthetics – dentures – provide a solution to tooth loss whether you're missing several teeth all your teeth. Plymouth prosthodontist Metropolitan Prosthodontics has its own, in-house denture lab, which streamlines the custom denture fabrication process.
Dentures are designed for comfortable use over long periods and removal for cleaning. There are two main types of dentures:
Complete (full) denture, used when all the upper or lower teeth are missing.
Partial denture, if you have some teeth remaining.
Dentures are further categorized as immediate dentures or conventional dentures.
Immediate dentures are placed as a temporary measure the same day teeth are extracted.
Conventional dentures are placed when the healing process after extraction is completed.
Dentures can also be supported by dental implants.
Implant-Supported Overdentures
While regular dentures are held in place by adhesive and natural suction, dentures can also be secured by dental implants. A key benefit of implant-supported overdentures is that they avoid the problem of jawbone loss associated with conventional dentures.
Maxillofacial Prosthodontics
Maxillofacial prosthodontics at your Plymouth prosthodontist addresses oral and facial concerns such as difficulties with speech, chewing and swallowing, and disfigurement. Treatment involves oral and maxillofacial surgery to repair damage caused by injury, disease or abnormalities of the mouth, face, jaws or neck.
These procedures include:
Cleft palate surgery.
Corrective jaw surgery.
Repairing broken facial bones.
Surgery in severe cases of temporomandibular joint disorder (TMD).
Surgical removal of impacted wisdom teeth.
Cosmetic Dentistry at Your Plymouth Prosthodontist
Cosmetic dental procedures at Metropolitan Prosthodontics include:
Teeth whitening, with take-home whitening trays that produce fast results with teeth several shades brighter.
Dental veneers to improve tooth shape, size and color.
Tooth bonding, a faster, more affordable alternative to veneers to treat stained, chipped or gapped teeth.
White composite fillings, a better aesthetic option in more visible areas of the mouth than amalgam silver fillings.
How Cosmetic Dentistry and Prosthodontics Overlap
There are many areas where cosmetic dentistry and prosthodontics overlap. Prosthodontic procedures sometimes not immediately regarded as cosmetic dentistry also have aesthetic benefits. For example, dentures, bridges, crowns and dental implants enhance facial appearance as well as restore oral functionality. Cosmetic dentistry simply refers to dental techniques to enhance appearance, and the American Dental Association (ADA) doesn't recognize cosmetic dentistry as a specialty.
On the other hand, the organization does recognize prosthodontists as experts in aesthetic tooth repair and replacement – the most qualified dental professionals to ensure optimal oral health alongside a sparkling smile. Services at your Plymouth prosthodontist Metropolitan Prosthodontics, for instance, include more complex dental restorative and cosmetic procedures, and we're one of only around 3,500 qualified prosthodontists in the U.S.
Your Plymouth Prosthodontist
Whether you want to transform your smile or need artificial teeth, tooth repair, or facial surgery, Metropolitan Prosthodontics can help with a personalized treatment plan. And you'll be sure to find an option in our comprehensive range of prosthodontic services that's right for you. Call us at (763) 559-7600 or get in touch online if you'd like to find out more about the benefits of our Plymouth prosthodontic services.
Please login to publish a comment.
Comments (0)