What Sets Metropolitan Prosthodontics Apart?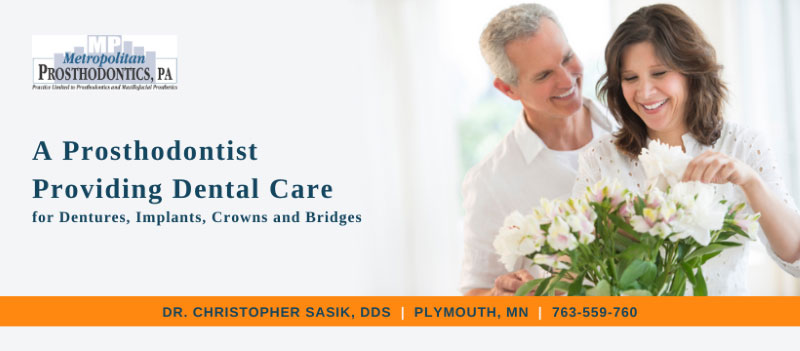 Metropolitan Prosthodontics and its leading Plymouth prosthodontist are committed to the highest standards of care in teeth repair or replacement and restoring smiles. We establish long-lasting relationships with our patients, offering personalized oral health care and cosmetic dentistry in a comfortable setting.
Like orthodontics (teeth straightening) and periodontics (gum disease treatment), prosthodontics is a dental specialty recognized by the American Dental Association (ADA). Prosthodontists are not only masters of complete oral rehabilitation, they're also experts in dental aesthetics and complex oral and facial surgery.
What Sets Metropolitan Prosthodontics Apart from General Dentists?
General dentists spend four years at dental school learning about preventive dentistry such as check-ups and routine restorative dentistry like fillings. A prosthodontist undertakes a further three years of extensive, highly focused training in the specialty of prosthodontics, which revolves around replacing teeth with dental prosthetics – artificial teeth. This is what Plymouth prosthodontist Dr. Christopher Sasik of Metropolitan Prosthodontics did.
Meet Dr. Sasik
Unlike regular dentists, Dr. Sasik is recognized by the ADA as an authority in aesthetic restoration and replacement of teeth. A native of Minnesota, Dr. Sasik graduated from the state university with a Doctor of Dental Surgery degree. He was top of his class. He did his prosthodontic residency at the prestigious Mayo Clinic College of Medicine and Science, where he also trained in maxillofacial prosthetics.
Besides looking after his Plymouth patients, Dr. Sasik is a member of the Cleft and Craniofacial Program at Children's Minnesota. He taught for many years at the University of Minnesota School of Dentistry as an assistant professor. He's also a member of many dental and oral health specialty organizations, including the American College of Prosthodontists and the American Academy of Maxillofacial Prosthetics.
How Metropolitan Prosthodontics Replaces Teeth
Metropolitan Prosthodontics restores oral health and functionality and rejuvenates smiles with a range of customized dental prosthetics that look like real teeth.
Dentures
Dentures are a standard solution when all or several upper or lower teeth are missing. With the help of advances in denture technology, modern dentures fit more comfortably and look more natural than those of the past. Most dental practices get dentures made at an external denture lab. We have our own in-office lab to fabricate dentures. This gives us more control over quality of materials and means patients get their dentures faster. Our Plymouth prosthodontist can also provide dentures that are supported by implants.
Dental Bridges
As the name suggests, a dental bridge literally bridges the gap caused by loss of a single tooth or a section of teeth. While a denture is a removable prosthesis, dental bridges are fixed permanently in place – more convenient than having to constantly remove dentures for cleaning and soaking overnight. If you've lost three or four teeth in a row, a bridge can be attached to dental implants. If a single tooth or two teeth are missing, the bridge can be attached to dental crowns placed on teeth either side of the gap.
Dental Implants
Dental implants are the hi-tech solution to tooth loss. A dental implant is a biocompatible rod – usually titanium – that's implanted into the socket of a missing tooth and fuses with jawbone to become a synthetic tooth root. In doing this, the implant promotes bone growth, which helps maintain facial structure and appearance – something dentures and bridges can't do. Implants can be used with a dental crown to replace a single tooth or to anchor a denture or bridge if more teeth are missing.
How We Repair Teeth
Besides replacing teeth with prosthetics, Metropolitan Prosthodontics also transforms smiles by restoring damaged teeth to health.
Our restorative dentistry services include:
Fillings. A filling halts the progression of decay in a tooth and restores its functionality and appearance. White, composite fillings provide a more aesthetic solution than silver, amalgam fillings in more visible areas of the mouth.
Dental crowns. As well as being used in conjunction with bridges and implants, a crown can repair and strengthen a decayed or otherwise damaged tooth when a filling would be insufficient.
Root canal treatment. A root canal repairs damage caused by deep decay in a tooth and avoids the need for extraction.
How We Restore Smiles
Cosmetic dentistry at Metropolitan Prosthodontics provides smile makeovers with treatments such as:
Teeth whitening. Professional teeth whitening at your Plymouth prosthodontist is safer, faster, and more effective than over-the-counter DIY teeth bleaching kits.
Dental veneers. Veneers enhance tooth shape, size and color to transform smiles marred by dental imperfections such as chipped or stained teeth.
Tooth bonding. Dental bonding with composite resin also improves the appearance of teeth but is a simpler, more affordable treatment than dental veneers.
Oral and Maxillofacial Surgery at Metropolitan Prosthodontics
Unlike many dentists, Plymouth prosthodontist Dr. Sasik is able to perform oral and maxillofacial surgery to address problems such as disease or irregularities of the mouth, face, jaws or neck.
These procedures include:
Cleft palate surgery.
Corrective jaw surgery.
Repairing fractured facial bones.
TMJ surgery to treat a severe temporomandibular joint disorder.
Surgical extraction of impacted wisdom teeth.
Why Choose Metropolitan Prosthodontics?
As recognized experts in replacement and restoration of teeth and in cosmetic dentistry, Metropolitan Prosthodontics has more knowledge, skills and experience in these treatments than the majority of dentists. And that means a better patient experience. We use advanced dental techniques and technologies to provide a diverse range of procedures that restore smiles and oral health. We understand that some patients are more nervous than others, so we offer dental sedation in the form of laughing gas (nitrous oxide).
If necessary, we can also work with other dental specialists or your general dentist to keep your new smile healthy into the future. A further benefit offered by Metropolitan Prosthodontics is that we provide emergency dental services should you ever have an urgent dental problem requiring fast pain relief.
Top Plymouth prosthodontist, Dr. Sasik, has more than 25 years' experience in providing outstanding dental care that improves patients' quality of life. Along with Dr. Sasik, our clinical and admin teams work closely together to ensure total patient satisfaction. Contact us if you'd like to know more about the benefits of choosing Metropolitan Prosthodontics.
Please login to publish a comment.
Comments (0)