What if I'm Referred to a Prosthodontist?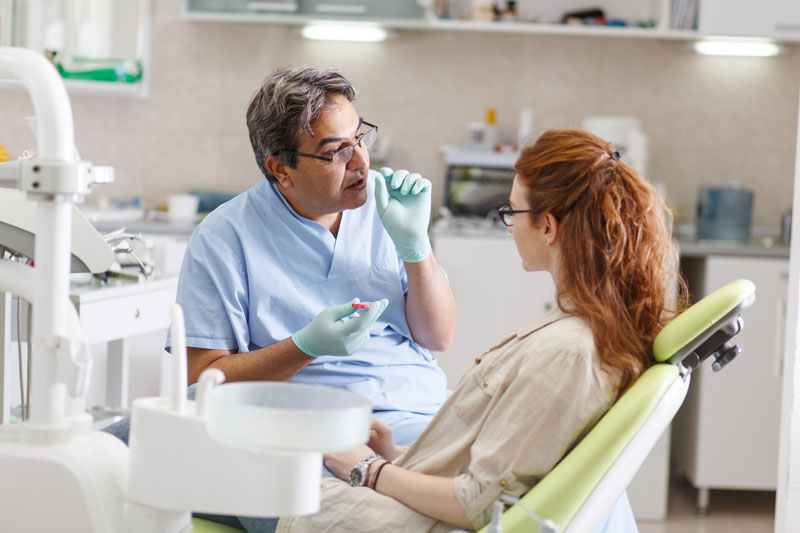 If you need specialist treatment to repair or replace teeth, your dentist will likely refer you to a prosthodontist to restore your oral health and your smile.
This is because:
Your general dentist is a primary dental care provider carrying out preventive dentistry and basic restorative procedures.
A prosthodontist is a dentist who's had extensive training to specialize in aesthetic replacement and restoration of teeth and ensure oral health and functionality throughout the entire mouth.
You may be apprehensive about being referred to a prosthodontist. This is only natural. You might not like having to discuss your oral health concerns with a new dental care provider, for instance, especially if you've built a strong relationship with your dentist over the years.
The point to keep in mind is that if you trust your dentist to look after your teeth with regular, routine oral health care, you can trust their judgement in referring you for prosthodontic treatment. They're doing it to ensure you get the best possible dental care. Understanding why you're being referred to a prosthodontist and what to expect can help ease your anxieties. Here, you'll find out what you need to know.
What's the Difference Between a General Dentist and a Prosthodontist?
About 200,000 general dentists are practicing in the U.S. There are only around 3,500 prosthodontists. Unlike general dentists, after four years of dental school prosthodontists undertake a further three years of specialized training accredited by the American Dental Association (ADA). This makes prosthodontists the recognized experts in aesthetic restoration and replacement of teeth to achieve optimal oral functionality and appearance.
Why Am I Being Referred to a Prosthodontist?
Patients are referred to a prosthodontist for a variety of reasons in more challenging cases. For example, you may need:
Comprehensive reconstructive dentistry.
Complex implant treatment.
Maxillofacial surgery.
Intricate cosmetic dental work.
Prosthodontic Procedures
Treatments at your Plymouth prosthodontist Metropolitan Prosthodontics include:
Dentures.
Dental implants.
Dental bridges.
Dental crowns.
Prosthetics to replace missing jaw and facial tissue.
Cosmetic dentistry.
Prosthodontic Dentures
Prosthodontic removable dentures are a popular choice for people looking for an affordable solution to tooth loss.
The two main types of dentures are:
Complete (full) denture, used when all the upper or lower teeth are missing.
Partial denture, if you have some teeth remaining.
Dentures can also be supported by dental implants rather than adhesive and natural suction. Making dentures is usually outsourced to a denture lab. Your Plymouth prosthodontist has its own, in-house denture lab, which streamlines the process.
Implant Prosthodontics
Dental implants are small biocompatible rods, usually made of titanium, that anchor artificial teeth. An implant is surgically inserted into the socket of a missing tooth, where it gradually fuses with jaw bone to create a synthetic tooth root. This process (osseointegration) is unique in dentistry in promoting bone growth essential for preserving facial structure and appearance.
Traditionally, eight or more implants are needed to replace all the upper or lower teeth. All-on-4 implants, introduced in the late 1990s, typically do the job with just four, as the name suggests.
Dental Bridges
Fixed dental bridges bridge the gap left by a missing tooth or section of teeth. They ensure an even bite and prevent remaining teeth from moving out of position. Bridges can be secured with dental crowns placed on teeth either side of the gap or by dental implants.
A dental bridge addresses the aesthetic problem of an unsightly break in your smile while providing a more convenient option than a partial denture, which needs to be removed for cleaning. Porcelain bridges look more natural than bridges with a metal framework.
Dental Crowns
Dental crowns repair extensive cavities or physical damage to a tooth when a filling wouldn't be sufficient or when a large filling has deteriorated. They can withstand a strong bite force, and cover the whole surface of the tooth, which strengthens function and enhances appearance by restoring natural shape, size and color. Crowns can also be used after root canal treatment and with bridges and dental implants following tooth loss.
Oral and Maxillofacial Surgery
Oral and maxillofacial surgery by prosthodontists repairs disease and abnormalities of the mouth, face, jaws and neck with prosthetics to replace missing soft tissues and bone.
These procedures include:
Corrective jaw surgery to reposition upper jaw, lower jaw, or chin, to correct irregularities.
Cleft palate surgery to close a split in the roof of the mouth.
Surgery to repair broken bones following facial injury.
Surgery to correct severe cases of temporomandibular joint disorder (TMD).
Surgical removal of impacted wisdom teeth.
Cosmetic Procedures Performed by Prosthodontists
As well as repairing or replacing teeth and performing complex oral and facial surgery, prosthodontists are the experts in cosmetic dental treatments to transform smiles.
These aesthetic procedures include:
Dental crowns to enhance tooth color, shape and size.
Dental veneers to conceal dental imperfections.
Tooth bonding to enhance appearance of a chipped tooth.
Composite (white) fillings that look more natural than amalgam (silver) fillings.
Teeth whitening – more effective than over-the-counter whitening products.
What to Expect at the Prosthodontist
If you've been referred to a prosthodontist, they'll first discuss with you your dental history and the concerns you currently have about your oral health and your facial appearance. Then they'll perform a thorough examination. After drawing up a detailed treatment plan, your prosthodontist will explain how long treatment will take and how much it'll cost. Later, they'll tell you about the steps you may need to take to look after your newly restored smile.
Advantages of Seeing a Prosthodontist
When you're referred to Metropolitan Prosthodontics, your dental care is in the most capable hands. Advanced, highly focused training has made us the recognized experts in teeth replacement and restoration, cosmetic enhancement, and maxillofacial surgery. Our clinical expertise and experience are combined with personalized dental care and state-of-the-art techniques and procedures to treat complex dental issues and restore optimal oral functionality and aesthetics.
Call us at (763) 559-7600 or contact us online if you have more questions about being referred to a prosthodontist.
Please login to publish a comment.
Comments (0)